Sauna Sizes: What Size Should You Choose?
A sauna is an essential part of many people's health and wellness routines. However, the size of a sauna can vary wildly depending on personal preference or space availability. This post is designed to help you find the perfect size for your needs.    
The first thing you need to do when deciding what size of sauna would be best for you is to figure out how much room you have available in your home. 
If space isn't an issue, other factors might affect which size will work best for you, such as height restrictions or weight capacity limitations. With all these things in mind, here are some standard sizes with their benefits and drawbacks so that it's easier to decide which one will suit your needs.
What is a sauna, and what is it used for?
A sauna is a heated room using hot air and steam to clean your pores, usually after physical exercise or as a relaxation method. A dry sauna provides an environment where you can sweat out toxins while steaming away any excess water from exercising in humidity levels below eighty percent but not above ninety nine%.
There are many different types of saunas in the world, and they can be found all over. These rooms lined with wood planks usually have cedar as their base material for construction. This type is called a "cedar-sauna." 
Some places may also feature outdoor options where you'll find them housed within an additional building explicitly designed for that purpose. These structures originate from Finland, where it's customary to enjoy such facilities at home rather than visiting one primarily, if not exclusively outdoors like many other cultures do today. 
(although there still exist designated open-air areas which allow people some privacy when necessary).
>> What is it used for?
The sauna experience is a relaxing, healing haven. It can help you unwind and be more at peace with your mind as it improves blood circulation following all that stress from the day – not just for those who have experienced physical symptoms but also for anyone looking forward to some downtime!
As with any space, the sauna can be used as a place for quiet contemplation and connecting to others. A larger room would have more opportunities for gathering in groups that want some peace but still need social interaction or private time together!
How is The Sauna Built?
A sauna is a great way to relieve stress, increase blood flow and circulation, among other benefits. The type of saunas available is as varied now as they were when this ancient bathing tradition began over two millennia ago! 
Indoor or Outdoor space might be required depending on what you want out of your experience with the heated room where humidity levels can soar up high enough so that sweating seems natural. But not too much such that one feels uncomfortable in their skin, etc.
A sauna is a great way to relax and unwind after work. Indoor home saunas can be installed in any room of your house, even if you don't have access to or space for an outdoor one! The best types are electric heater models because they're more efficient than their infrared counterparts.
An outdoor sauna can be built on an existing porch or deck, with the option of having a separate structure. 
When considering which type you would like in your backyard for some much-needed vitamin D during those cold winter months: wood burning (a traditional method) steam-powered booths offer many health benefits, including increased body temperature and blood circulation; they're also great ways to beat cabin fever!
If you're looking for a sauna, some essential things will help your decision. Although most people prefer cedar because of its beautiful look and pleasant smell, other woods like poplar can work if they have the right qualities. Hemlock is another budget-friendly choice with similar properties but without any negative associations attached to it in terms of health or allergies!
Saunas can be as small as a three-foot by three-foot room, but the most popular size is eight feet long and twelve inches high. Sauna seats need to face away from the doorway, so people don't feel cramped inside; they also have glass doors that give more natural light for an open space feeling while you sweat it out!
Type of Saunas
Traditional sauna
The traditional sauna is a Finnish invention that has been around for centuries. This type of room features heated walls and rocks covered with water-filled pots or mats to create steam while you sit inside it! 
From 185 degrees Fahrenheit up until 190F, these moist environments can help improve your health by releasing tension all over your body in just 10 minutes–no wonder they're so popular among athletes from all backgrounds looking to release extra energy during competition time!
>>How much space is for traditional saunas?
The best way to make your home sauna experience genuinely comfortable and relaxing is by having the proper setup. For example, you can have a small 4′ x 8′ space in which only one person as full size portable sauna, will be able to enjoy, or go with an outdoor 12 ft × 16 ft room for up to twelve people!
A sauna is a great way to relax after any long day. It can be used by yourself or with friends and family members- even your pets! A typical 1-seater fits one person at most; however, if you want more space, then check out our article about building an average-sized four-seater home spa for all of those who love soaking in hot volcanic rocks togetherness await below.
Infrared Sauna
With temperatures ranging from 125-130 degrees Fahrenheit, infrared saunas are not as hot and produce no steam, so they're ideal if you prefer less humidity. In addition, they don't require ventilation or preheating before use which is why it's best for indoor use!
>>How much space for infrared saunas?
A 5′ x 6 '5' infrared sauna is easy to use and affordable. It requires about ten 300Watt panel heaters, so you don't have to worry about running out of electricity or sacrificing space with a large wood stove as many other types do!
General Sauna Sizes Dimensions
Here are the available sauna sizes for you. Let take a quick look at them before coming to the specific size:
6ft by 5ft: The traditional Finnish sauna is a staple of homes around the world. They are typically 6 feet by 5 with upper and lower benches, providing enough room for a family of four to sit comfortably together without feeling cramped or uncomfortable nearby. One might experience an infrared heated unit that requires you to be right up against emitters while using it.
Seventy-seven inches minimum permitted ceiling height: Any given sauna's minimum permitted ceiling height is 77 inches. Most often, however, an average-sized room will have a maximum safe limit for you to enjoy and be comfortable in at least 88-90 inch high ceilings – so don't worry if yours are lower!
Laying down: If you plan on laying down in the sauna, make sure that there are at least 6 feet one way. It's also recommended to have a ceiling height of 7-foot or higher, so your body is safe from any falls while using this space as exercise equipment and heating area!
Bench: The goal is always to have enough space for both benches and a lower area so that all users can enjoy themselves. If you are looking at purchasing an upper sauna, it's wise to factor in 2 feet per person who would like their seat there as well!
Space around: Ensure to leave plenty of room around your sauna for getting in and out, as well as access behind it.
Indoor sauna: You should use the miniature breakers and heater but make sure that they provide efficient heating.
Outdoor saunas: If you're looking for a roofing material to cover your house, don't forget about the available variety. Plywood and metal roofs both look great on an outdoor patio or near any other structures where they may be in use- such as pools or spas!
Customized saunas: Custom-cut saunas that can easily fit beneath a stairwell or in a tiny home? What are you waiting for!
Indoor placement: You can turn your basement into a spa, create space for the family by giving up one of those rooms that are just sitting there unused. Create an individual sauna in any room—even if it's already filled with all sorts of things like clothes or shoes!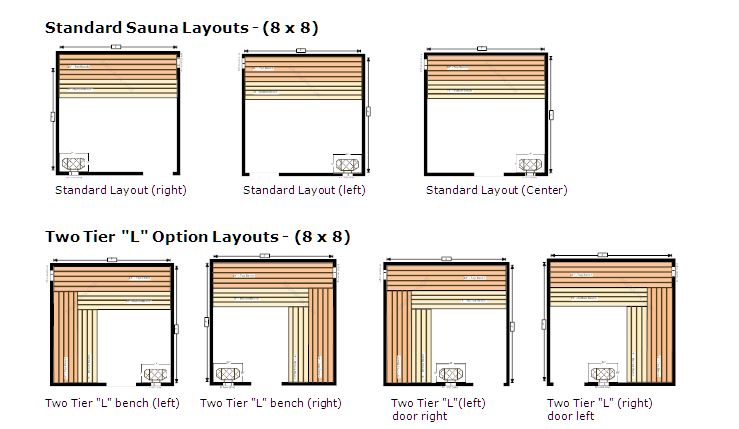 Specific Sauna Size Guide
Please note that the dimensions listed below are for reference only. You will want to discuss these options with your local sauna dealer before finalizing your decision:
Wood: Saunas come with high quality wood options, including Nordic Spruce, clear Western Red Cedar, or Canadian Hemlock. These woods are all easy to maintain and will keep your sauna looking brand new!
Sauna Door size: A sauna is a place of solace and relaxation. If you are looking for something to be calming or want an all-glass door with more light coming in that will make your day brighter – we have just what you need! Our doors come in sizes from small sauna rooms to large homes, so there's no problem finding one perfect fit regardless of whether this will serve as part home spa/ exercise room (or both).
Accessories for traditional sauna: Keep your mind relaxed and mobile with the fantastic benefits of a hot sauna. The bucket, ladle, or linens are just what you need to create desired steam levels while protecting yourself from stains caused by sweat!
Don't let you wait for too long. Here are the standard designs and sizes for traditional and infrared saunas.
Indoor traditional sauna sizes
The most popular design for saunas is the hook and pin panel. This type of construction can be assembled in less than an hour with five sizes available (4×4, 4×6, or 6×6), 80″ high.
Glassdoor, two full glass side panels, top panels for four people: 72x 74″ and 77 x84″ with ceiling overhang, and the sauna dimensions outside is 84x72x84″
Contrasting wood colors and glass with 72×81 ¾" and 82 ⅞ x93″ celling overhang and 72 x 81 ¾ x 84″ for outside dimensions for four people.
Gentle and wave-like curved glass front with the ultimate design and excellent features for four people: 72×72″ and 72 x 72 x 84″ for outside dimensions 
A Broad angled front wall will give a more spacious feel, and it can fit nicely in the corner of installation for five persons: 84×84″ and 84x84x84″ for outside dimensions.
Curved glass front sauna for 2-10 people: 72×84″ and 72x84x84″ in outside dimensions 
The glass-to-glass corners provide an open feel with LED lights and nice backrests: 84×84″ for five people.
Light-colored, comfortable, and well-ventilated sauna for 2-10 people 4×4″. 4×6″, 5×6″, 6×6″ corner, 6×7″, 7×7″ corner and 8×8″, 8×12″ 
Outdoor traditional sauna sizes
For outdoor relaxing and can double as the pool houses: 4×6 and 5×7 room footprints
For outdoor entertaining: 4×5, 4×6, 5×6, 5×7 for 2-5 people
For busy society, ideal for deck/backyard: 4×4′, 4×6′, 5×6′, 6×6′ corner, 6×8′, 7×7′, 8×8′, 8×12′ for 2-10 people
Barrel saunas for smaller heating space than the rectangular sauna with expansive room for bathers come in various sizes for unlimited selections.
Indoor only infrared sauna sizes
36x36x76 ⅜" H for one person
2 person sauna dimensions is 40x48x76 ⅜" h 
44x 64 x 76 ⅜" H for 3 people
44 x 72x 76 3/8H for 3 people
52x52x76 ⅜" H for three people
4 person sauna dimensions are 56x72x76 ⅜" H 
60x60x76 ⅜" H, it is for 4 people
FAQs on Sauna Sizes
Q1: What is a good size for a sauna?
European-style saunas are typically about 4′ x 6′, 5 feet high and have a capacity for two people. If you want to heat your sweat space, then the average public bathhouse will be around 100 square feet with dimensions of 5′ wide by seven long–although this can vary depending on if it is a one-person unit or not!
Q2: How big should a four-person sauna be?
It would help if you thought about the size of your room when planning to buy a sauna. The typical sizes are four by 4 feet or eight by 12 feet, but you'll need 2 feet of bench
pace for each person who wants to use it, so figures on at least 6 ft in one direction if possible!
Q3: What size of sauna heater do I need?
A sauna is a great way to relax after spending time outdoors in the middle of summer. Of course, you'll need some heating equipment if it's going outside- but luckily, there are plenty of options for indoor heaters as well! 
If your home doesn't have enough room with a standard 1 kW heater, be sure and get at least 2 kW (or 5 kW). These sizes will keep most people comfortable without feeling too hot inside – even on those cold winter days when they want nothing more than their bed.
A general rule states that every 50 cubic feet require about five kilowatts; larger rooms require higher wattage units because of the additional surface area.
Q4: What size should a sauna bench be?
18- 22″ wide benches are most common, but you can also find 1½" or 40+ inch double widths. Lower seats at 18″, upper ones at 36″. How about sauna bench height? the upper bench is about 36", lower bench is 18".
Conclusion 
This sauna sizes blog post concludes that the size and shape of a sauna room should be based on customer needs. After all, what's most important when it comes to your health? A healthy body or an attractive home? Take some time to consider how you can adjust your own space so that you're getting the best out of both worlds!
See more: 
Top 7 The Best 1 Person Sauna Reviews in 2022
Top 10 The Best 2 Person Sauna for Home in 2022
[Top 7] The Best Barrel Saunas Kit in 2022